Rattlers Win First Game at State
Brock Kappelmann - July 13, 2017 2:10 pm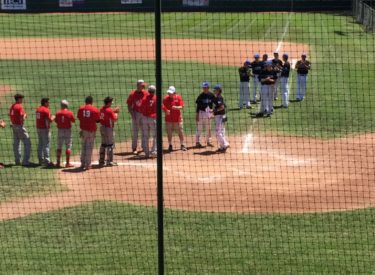 The 18U Liberal Rattlers won their opening game in the Babe Ruth State Tournament in Wellington in exciting fashion Thursday afternoon.  Max Valles provided a walk off hit to lift the Rattlers over Parsons 4-3 at Hibbs-Hooten Field.
Parsons took a 3-0 lead with one in the second and two in the third.  The Rattlers scored to in the bottom of the third and added one in the fifth to tie it. The Rattlers out hit Parsons 5-2 but won despite four errors.
Kaleb Wilmes pitched three innings allowing one earned run.  Braxton Hyde pitched four scoreless innings and was named game MVP.  Wilmes had a doubled for the one extra base hit.  Cole Evans won the WOW award for his play at first base.  Hyde, Valles, and Dylan Thompson each had RBI's.
The Rattlers play Junction City at 10 Friday in Wellington.  The Rattlers are 27-5.