Rapoza and Wagner Tabbed KJCCC West's Best of Week
KSCB News - April 29, 2015 6:22 am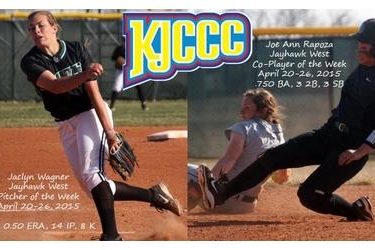 A pair of Jayhawk Conference awards came pouring into Liberal Tuesday afternoon as Lady Saints Joe Ann Rapoza and Jaclyn Wagner were named the Jayhawk West Co-Player and Pitcher of the Week for the final week of the regular season.
Rapoza was red hot for the Lady Saints this week, batting .750 with 3 doubles and 3 stolen bases to wrap up the regular season for Seward. The sophomore from Pearl City, Hawaii was 5 for 6 with doubles in each game in Wednesday's doubleheader against Colby and was 3 for 6 with a double and an RBI in Monday's sweep of Pratt.
Lady Saint sophomore Jaclyn Wagner wrapped up the regular season in style this week, going 2-0 with a 0.50 ERA in a pair of starts. Monday against Pratt she spun a complete game shutout, striking out 6 Beavers in a 3-0 Seward County win. She backed that up with a complete game four hitter against Colby on Wednesday in Seward's regular season finale.
The pair will now hope to stay on their hot streaks as Seward slides into the Region VI Tournament on Wednesday as the #2 seed in the tournament. The Lady Saints will host the Pratt Beavers in a best two out of three series beginning Wednesday afternoon at Lady Saints Field at 1:00.
Roy Allen