Ozfest To Offer Fun For The Entire Family
KSCB News - October 10, 2013 5:03 pm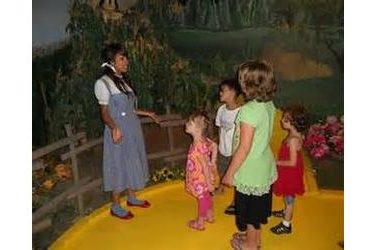 People will soon have the chance to follow The Yellow Brick Road to the annual OzFest in Liberal, Kansas, sponsored by Dorothy's House and the Land of Oz on October 12th. The whole family will find a magical place where troubles melt like lemon drops, with contests, entertainment, activities, and games.
Glenda and Mike Mann are a husband and wife team with a unique profession. They combine illusions, ventriloquism, and comedy to entertain and inform. The Mann's have appeared throughout the United States in State Fairs, Community Festivals, School Assemblies, Libraries, Churches, and Business Meetings.
Glenda is the magician. She is a member of the International Brotherhood of Magicians, and has studied under some of the greatest magicians including Harry Blackstone Jr. Glenda presents polished magical routines that quickly gain the attention of adults as well as children.
Mike, the ventriloquist, humorously converses with different puppets. He not only performs comedy routines, but ad-libs throughout the program. His human ventriloquist routine turns anyone into a puppet.
The Mann's programs are for the entire family. Come and enjoy this unique and original entertainment. The Magic Show will start at 2:00 pm in the big tent on the grounds of Dorothy's House.
| | |
| --- | --- |
| Name of Performer | Time |
| Opening Exercises with Miss Liberal | 9:00am |
| Ginny & George McNitt | 9:30am |
| Awana Choir – FSBC | 10:00am |
| Dance 4:1 | 10:30am |
| Look-A-Like Contest | 11:00am |
| Dorothy Quartet | 11:30am |
| Rine's Karate | 12:00pm |
| Rine's Karate | 12:30pm |
| FBC College Band | 1:00pm |
| FBC College Band | 1:30pm |
| Magic Show | 2:00pm |
| Magic Show | 2:30pm |
| Church 4 All Nation's Youth Band | 3:00pm |
| Dorothy Quartet | 3:30pm |
| Emmanuel Baptist Church Group | 4:00pm |
This year we will have a lot of new games for the kids to participate in. The games that will be featured include The Loli-Pop Tree, Bean Bag Toss, Face Painting, Frog Launcher, Sand Art, and Fishing. Other activities include a Fortune Teller Booth, the Oz Train, Bouncy Houses, and the beloved Money Hunt! Tickets for the games will be 4/$1. Ticket booth will be located on the grounds of Dorothy's House. There will be a seed spitting contest at 3:00pm. The Look-A-Like Contest will start at 11:00am. The different categories will be Dorothy, Lion, Tinman, Scarecrow, Wicked Witch, and Glinda .