Olney Visitors To Lead Parade
KSCB News - February 26, 2014 8:09 am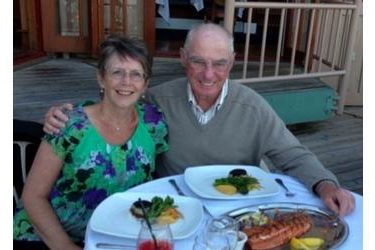 This year's Pancake Day representatives from Olney, England, Tony and Viv Evans, will serve as grand marshals for the Pancake Day parade, set to begin at 3 p.m. Tues., Mar. 4. The parade is the closing event for four days of Pancake Day festivities.
Tony and Viv Evans are long-time Olney Pancake Day committee members, and they are ready to see what Pancake Day, Liberal-style, is all about.
"We are very much looking forward to visiting America," Viv said. "We are very excited at the prospect of visiting you in Liberal and joining in your Pancake Day celebrations."
The Evanses have lived in Olney for more than 45 years, and they have been helping with Olney's Pancake Day Race for over 18 years. They will officially represent Olney at all events in Liberal this year, beginning with Saturday morning's activities at the Seward County Event Center.
Parade organizers are still accepting parade entries. This year's theme is "Engaging Community and Changing Lives." Entrants may also want to highlight Pancake Day's 65th anniversary.
There is no entry fee, and any group or individual is invited to enter a float in one of the following divisions: commercial, non-profit, schools, antique automobiles, and antique equipment. Cash prizes of $150 for first place, $100 for second place and $50 for third place will be awarded in each division. Entrants do not have to live in Liberal.
The parade, sponsored each year by the Liberal Rotary Club, is set to begin at 3 p.m., Tuesday, Mar. 4.
For more information, contact Larry Wells at [email protected] <mailto:[email protected]> or 620-624-5653 or Janet Willimon at [email protected] <mailto:[email protected]> or 620-655-2642. Entry forms are also available on the Pancake Day website at www.pancakeday.net.