Okla. Officials Lower Storm Death Toll From Five To Two
KSCB News - May 12, 2010 12:00 am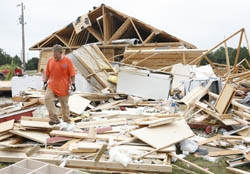 Oklahoma authorities are lowering the death toll from this week's storms from five to two after learning three children who were reported to be killed had survived.
Oklahoma Department of Emergency Management spokeswoman Michelann Ooten said Tuesday that the children were injured in Monday storms that killed their Cleveland County mother and a man in Oklahoma City.
Ooten says officials were told the children initially were taken to one hospital, but were soon transferred. She says a miscommunication occurred when relatives called the first hospital to check on the children. State officials were later told they had died.
Ooten says all three children remain in critical condition at an Oklahoma City-area hospital.