No. 16 Lady Saints use fourth-quarter rally to top Cowley on the road
Joe Denoyer - December 11, 2019 9:45 pm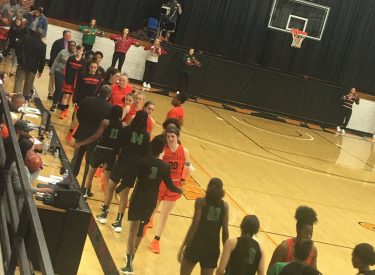 Kenny Hernandez
The No. 16 Lady Saints basketball team withstood a 10-0 third quarter assault and rallied in the end to post a 65-58 road victory over the Cowley Tigers on Wednesday. Seward improved to 9-3 overall and 4-0 in conference play, tied for the top spot with Hutchinson in the West.
The Lady Saints trailed for most of the game before recovering from a five-point deficit at the end of the third quarter and coming all the way back for its 24th straight regular season conference victory.
Seward opened the third quarter with an 8-2 burst with Tianna Johnson scoring on a layup to finish the run and to take a 43-38 advantage with 5:05 remaining. That would be the final points for the Lady Saints in the quarter. The Tigers went on a 10-0 barrage and turned a five-point deficit into a five-point lead at 48-43 after three quarters.
The deficit grew to six for the Lady Saints at 54-48 with 7:05 left in the fourth, but they battled back with a 6-1 burst and tied the contest on a Johnson layup at 55 with 3:02 left.
With all the momentum, Seward closed the game on a 10-3 run with Vanda Cuamba leading the way with five points en route to the win.
Johnson scored a team-high 16 points while Karolina Szydlowska had 14 points and 14 rebounds and Cuamba added 11 points and nine rebounds for the Lady Saints, who held a 42-32 rebounding edge and spread the ball around with 16 assists.
The Lady Saints came out slow once again while the Tigers were on fire, hitting a trifecta of three-pointers during a 15-7 start to the game. Cowley took a 21-15 advantage after the first quarter of play. The Tigers held onto to a 36-31 edge late in the second quarter before Cuamba scored the final four points to help the Lady Saints cut the margin to 36-35 at the half.
Milenna Fromming had 21 points and Seanna Boltz scored 13 for Cowley, which fell to 13-2 overall and 3-2 in the Jayhawk East. The Tigers were red-hot from the three-point line in the first half, hitting 7-of-18, but ice cold in the second half, making only one of 10 shots.
The Lady Saints will be off for the rest of the year and do not play again until Saturday, January 4 at Coffeyville.