Mullinville Metal Sculptor Work Vandalized
KSCB News - June 17, 2014 10:26 pm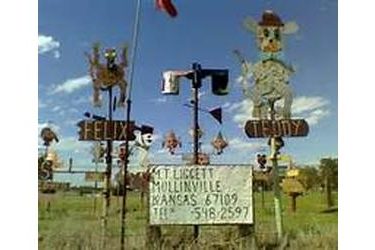 A well known metal sculptor from western Kansas finds some of his artwork vandalized. But he is remaining positive despite the damage.
The damage took place Monday night on a piece of property M.T. Liggett owns near the center of town. The cannon sculptures had only been on the land a few days. Liggett said the sculptures represent family members who have died in conflicts dating back to the Revolutionary War.
"I have one great grandpa, he was a union captain and one grandpa was shot in Roanoke, Virginia, great grandpa", Liggett said.
The vandals tipped over nine cannon sculptures, breaking the wheel off one of the cannons. Liggett said none are easy to make. "That one takes about, by myself, takes three days", he said.
Liggett, who is 83 years old, said his work on the edge of town had been vandalized before. When asked why his recent work was vandalized Liggett said, "I have no idea. None. Everybody knew that I was making this for my family."
Surprisingly, despite the damage, Liggett has a good attitude. "But honestly and I want to emphasize this point", said Liggett. "I'm not bitter about this what so ever. None. That's their choice." Liggett said he doubted the vandalism was done by kids. He said only adults could have pushed over the sculptures because of their weight.
The Kiowa County Sheriff's Office is pursing leads including checking out security camera video from a building in the area.