Mollie Mounsey Selected for NJCAA All Star Game
Brock Kappelmann - July 19, 2017 1:27 pm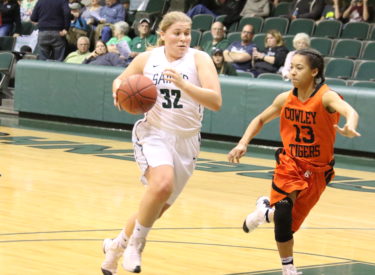 Mounsey Selected to Play in NJCAA All-Star Weekend
Seward County standout Mollie Mounsey has been selected to participate in the 9th Annual NJCAA Women's Basketball Coaches Association All-Star Weekend to be held July 21-24 in Niceville, Florida. Following a breakout season, which helped lead the Lady Saints to a 32-3 overall record and a 5th place finish at the national tournament, Mounsey is one of 40 NJCAA student-athletes to be selected for these games.
"I'm looking forward to playing against all the top players in the country," Mounsey said. "It's an honor to get selected with all the talent that there is around the country. I'm hoping to go out and shoot the ball well."
Mounsey, a 5'10 guard from Follett, Texas, led the Lady Saints in scoring at 19.9 points per game, while leading the nation with 143 three-pointers made.
"Mollie is a complete player with a great attitude," 2016 assistant coach Carlo Walton said. "She can shoot, take it off the dribble, or post up. She's an incredible kid and has been blessing for us."
The sophomore guard racked up numerous awards throughout her freshman season, including the KJCCC Freshman of the Year and Most Valuable Player, before being named an NJCAA First Team All-American.
"This marks how the program has maintained the consistency of a winning tradition," Walton said. "Coach Wynn has maintained a high level of success during his tenure here and her selection isn't just great for the program, it's great for the community as well."
The All-Star Weekend consists of a practice and Hall of Fame night, before Mounsey gets to showcase her skills during two games. The games will be played July 23 (Sunday) and July 24 (Monday).
Ian Applegate