Middle School Results
Brock Kappelmann - February 20, 2020 12:54 pm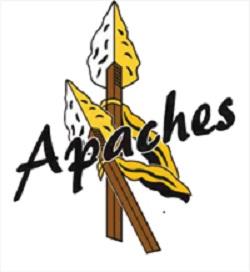 *8A from Coach Watt – *
Seymour Rogers travelled to Guymon Tuesday evening for an out of conference
contest. The 11-3 Tigers were a stout and experienced team. The Tiger
pressure on defense as well as mental lapses by the Apaches led to a
lopsided contest. The Apaches were plagued by turnovers en route to a 13-37
defeat. Despite the loss the Apaches did win on the glass out rebounding
the Tigers. The Apaches will seek to get their first career win tomorrow
night in Garden City where they will take on Kenneth Henderson.
*8B from Coach Shelby – *
In a non conference game, Apaches 8th grade B team came on strong out of
the gate against Guymon. The Apaches had a 6-2 lead after one behind three
pointers from Kevin Ambriz and Alberto Torres. Seymour Rogers was able to
keep the positive momentum throughout the game as they never trailed on
their way to a 26-21 winner. Alejandro Gutierrez, nine points, and Ramsey
Galindo, eight points lead the Apache offense. Ramsey shot a team high
seven free throws, knocking five of them down.
*7A from Coach Kachel -*
SRMS 7th A team traveled to Guymon to play the Tigers. The Apaches fell
behind 4 to 13 after the first quarter and 18 to 25 at half. Hot shooting
by the Tigers widened the gap to 23-38 after three quarters before the
Apaches were able to make a bit of a comeback. Final SRMS 34 Guymon 47.
Jakyree Washington led the Apaches in scoring with 14 points and Damian
Rios and Hudson Rice each had 7 points.
*7B from Coach Richards – *
SRMS had a tough loss against Guymon losing 33-13. Enrique Morlaes,
Deangelo Denton, Orlando Munoz, Angel Soto all had 2 points and Deangelo
made 1 free throw to give us our score. The whole teamed learned some
better plays for defense tonight, to help us prepare for our remaining
games before the MSWAC tournament.