Liberal Fire Department Battles Residential Blaze
Joe Denoyer - December 31, 2017 12:56 pm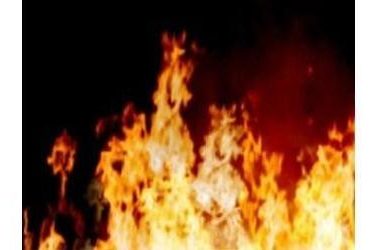 At 4:36 am Sunday, Liberal firefighters were dispatched to the area of the 1100 block of N. Roosevelt for what was initially reported as a shed fire behind a residence. First arriving responders as well as additional 911 callers confirmed that the fire was actually a well involved residential structure fire at 1120 N. Carlton.
First arriving units began attacking main body of the fire in an enclosed patio room on the rear of the home. They quickly discovered that the fire had extended through the eaves into the attic space as well as through windows into both the kitchen and laundry room. Additional fire crews made entry from the front of the residence and began fighting fire in two rooms of the home. Mutual aid for this fire was requested from Seward County Fire & Rescue. They responded with additional apparatus and personnel to assist with firefighting operations. The fire was declared under control at 6:08 am. Firefighters remained on scene until 9:38 am locating and extinguishing fire in wall spaces, the attic and roof of the home. Firefighting efforts were made more difficult by the freezing temperatures which created slippery conditions and caused hoses, nozzles and pumps to begin icing very rapidly. The fire is believed to be accidental in nature and is caused by a space heater operating too close to combustible materials in the patio room.
The home was occupied by three adult occupants and their pets at the time of the fire. An adult female occupant stated that she was awakened by noise and smelled smoke. On investigation she discovered the room on the back of the house fully engulfed in flames. She awakened the other two occupants and they narrowly escaped as flames began entering through the window into the kitchen. All were able to escape safely and were examined at the scene by Seward County EMS for smoke inhalation. Four of the family's pet cats perished in the fire. The American Red Cross responded to provide assistance to the family.
Liberal Fire responded with a total of 17 personnel and two engines. Seward County Fire provided seven personnel and two engines. Also assisting at the scene were the Liberal Police Department, Seward County EMS, American Red Cross, Liberal Water Department, Liberal Street Department, Southern Pioneer Electric & Black Hills Energy.