LHS Cross Country Opens Season at Perryton
KSCB News - September 8, 2015 6:37 am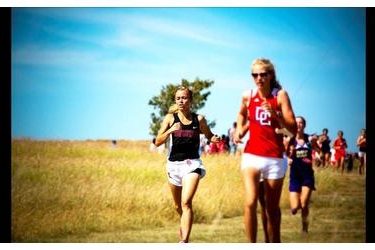 The Liberal High School cross country teams competed in Perryton, Texas Saturday morning at
the Wolf Creek Classic. The Redskins shared the course with schools from Texas, Oklahoma, and Kansas
as 35 girl teams and 30 boy teams competed in the meet. This was the first meet for the Redskins while
many of the Oklahoma and Texas teams have been competing for several weeks.
The varsity girls kicked off their season with some high expectations after returning the entire
varsity roster from last year. Junior Camryn Slatten jumped out to a big lead to build on her great
sophomore season when she won a WAC championship, Regional championship, and earn All-State and
All-American honors. The race quickly turned from excitement to disappointment for Slatten as she
stepped into a hole and fell, twisting her ankle about a half mile into the race. After Slatten was able to
get up and try to run again she found herself in 15
th
place with a mile and half left. Slatten was able to
push through the pain and finished in 7
th
place with a time of 13:33 for the 2 mile course. Unfortunately,
the fall may keep Slatten out of a couple of meets as she was diagnosed with a severe sprain. Junior Saw
Ahmara was the only other Lady Redskin to finish in the top twenty crossing the line in 18
th
place with a
14:13 finish. Sophomore Kelsey Ramsey finished the course in 14:44 to finish in 37
th
. Juniors Chloe
Alling, Karen Hernandez, and Yanelly Jurado finished in 40
th
, 48
th
, and 51
st
with times of 14:45, 14:57, and
15:06, respectively. Senior Gaby Amparan in her first ever cross country race completed the course in
16:31 and 95
th
place. After all the runners were tallied, the Redskins finished with 130 points which was
good enough for third place behind Dalhart, Texas and Dodge City.
The boys' varsity team knew they would have some big shoes to fill after losing four varsity
runners from last year. Junior Edgar Moreno, in his first cross country race since his freshman year, ran
off the rust from the sound of the gun. Moreno who helped the cross country team to a WAC
championship as a freshman, led the team Saturday as he was the third runner to cross the line in the
three mile race with a time of 17:11. After the race Moreno said, "I am glad to be back out for cross
country. I am going to stay motivated all season. I had a bad race today but I am not going to look back
and just look forward and stay humble." Seniors Greg McClurg and Alex Chance also cracked the top
twenty finishing in 10
th
and 12
th
with times of 17:46 and 17:52. Senior Emilio Tovilla who missed most of
last season with an injury got back into the swing of things crossing the line in 18:36 as the 24
th
runner.
Senior Ryan Doll completed the course in 18:48 in 27
th
place. Junior Juan Beltran finished in 32
nd
place in
19:02, while Freshman Keylan Cruz was the 40
th
runner with a time of 19:27. The Redskins ended the
day in second place with Guymon winning the team title.
The JV teams had some success as Sophomore Tania Minjarez won the JV race in a time of 14:42.
The girls JV finished in 5
th
place. On the boys side Freshman Antonio Borunda was the runner up with a
time of 18:31. While freshman teammates Joel Obando, Josh Diazdeleon, and Javier Carillo, all finished
in the top twenty in 6
th
, 11
th
, and 18
th
with times of 19:24, 19:58, and 20:24, respectively. The boys JV
team finished second place.
The Redskins will travel to Hesston Kansas Thursday for the Swather Special where there are
currently 49 schools registered.