LHS Cheerleaders Set to Host Cheer Clinic
Brock Kappelmann - August 24, 2017 2:20 pm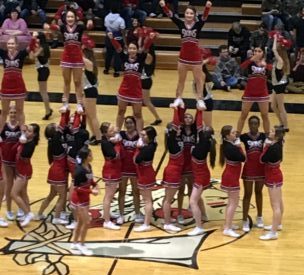 WE ARE LOOKING FOR FUTURE REDSKIN CHEERLEADERS!
JOIN US FOR OUR ANNUAL REDSKIN CHEER CLINIC!
WHEN: SATURDAY, SEPTEMBER 2, 2017
WHERE: LIBERAL HIGH SCHOOL GYM
TIME: 1:00 P.M. – 3:30 P.M.
**Registration Begins at 12:15 p.m.**
CLINIC & PERFORMANCE FEE: $25.00
AGES: 3-12
PERFORMANCE WILL BE DURING HALF-TIME OF THE LIBERAL VS. GUYMON GAME ON SEPTEMBER 8, 2017!
T-SHIRTS WILL BE HANDED OUT PRIOR TO THE GAME.
If your child is interested in participating in our annual Cheer Clinic, please fill out and detach the form below. All proceeds go toward the LHS Cheer Program. Forms may be mailed in advance or brought to Liberal High School on the day of clinic.
Name Age/Grade
Address City, State, Zip
Parent/Guardian Name
Insurance Company Policy Number
Doctor Home Phone Number Cell Phone Number
Medical/Food Allergies (We serve chocolate & vanilla cookies for snacks.)
T-Shirt Size (Circle One) Child Extra Small Child Small Child Medium Child Large Adult Small Adult Medium Adult Large
By signing below, I am hereby authorizing my child to participate in the Annual Redskin Cheer Clinic. I give my consent and authorize the school or its representative to obtain, through a physician of its choice, such medical attention as is reasonably necessary for the welfare of the student, if she is injured or ill while participating in the Cheer Clinic. I understand that the school is not financially responsible for any injury which may occur.
Parent/Guardian Signature Date
Please send check or money order with completed form to: Liberal High School Cheer
Attn: Scarlette Diseker/Isabelle Sullenger
1611 W. 2nd Street
Liberal, KS 67901