Lady Saints Win in Coffeyville
Brock Kappelmann - February 9, 2017 7:01 am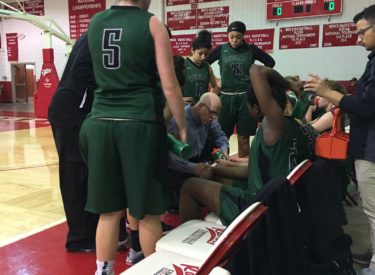 Seward's sparkling resume received another boost Wednesday evening. The sixth ranked Lady Saints beat Coffeyville 83-76 in Coffeyville's Nellis Hall. Seward stays tied with Hutchinson in the Jayhawk Conference.
The Lady Ravens led 15-13 after one quarter and led 22-13 in the second quarter. The Lady Saints ripped off a 16-2 run to lead 29-24. Seward took a 34-28 lead into the halftime locker room. Seward jumped ahead 38-28 before Coffeyville went on an 18-2 run to lead Seward 46-40. The gals in green came back to lead 58-53 after three.  The Lady Ravens cut the lead to 63-60 with 5:58 to play but Seward kept them at arms length the rest of the game.
Seward shot 46 percent while Coffeyville shot 41 percent. The Ravens were 10 of 21 from three in the second half. Mollie Mounsey had 24 points, six rebounds, five assists, and four steals. Manuela Fungate registered her second straight double double with 12 points and 10 rebounds. Joanna Grymek had 17 points and nine rebounds. Neidy Ocuane added 12 and Erin Richardson scored 10.
Seward is 23-1 and 19-1 in the conference while Coffeyville is 16-7 and 15-5. Seward hosts Allen Saturday night at 6 with Saints Shoot-around at 5:45 on 107.5 and kscb news.net. Community Bank is the buyout sponsor. The Lady Saints will be featured during the Bank of Beaver City Green Line Thursday night at 6 on 1270 and kscbnews.net.