Lady Saints Savor Win at Cloud
KSCB News - February 10, 2015 7:17 am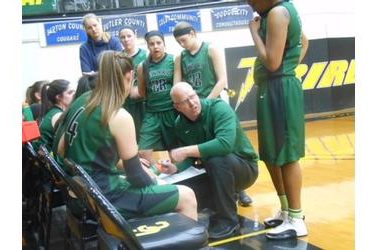 Seward had lost eight ot their last nine in Concordia. So pardon the Lady Saints if an 87-80 win at Cloud had them on cloud nine Monday night. It was their first win in five years at Bryant Gymnasium.
Seward trailed much of the first half and trailed 41-39 at halftime. Cloud would lead by as many as seven (48-41). The Lady Saints grabbed a 56-55 lead with 11:31 to play. Cloud led at the media timeout 64-62 with 9:10 to go. Seward built a 76-71 lead with four minutes left and led 78-71 with 3:10 to go before a Brooklyn Artis layup gave the Lady Saints an 80-71 lead with 2:53 to go.
Daniela Galindo matched or achieved her career high for a fourth time in five games pumping in 28 points. Her seven three pointers in a game are tied for second best all time in Lady Saint history. Brooklyn Artis scored 22 for a second consecutive game. Axelle Bernard scored 13 and grabbed 12 rebounds. Seward was outrebounded 40-31 and trailed in that category 26-12 at halftime.
Seward is 23-2 and 11-1 in the Jayhawk West while Cloud is 10-14 and 3-8 in the Jayhawk West. Seward will be featured during the Green Line Thursday night at 6 p.m. at Ayr Lanes at Billy's on 1270 and kscbnews.net. They host Dodge City for homecoming Saturday night at 6 with Saints Shootaround at 5:45 on B107.5 and kscbnews.net. Pizza Hut is the buyout sponsor.