Lady Saints Race by Lady Ravens for 7th Straight Win
Brock Kappelmann - January 31, 2022 10:34 pm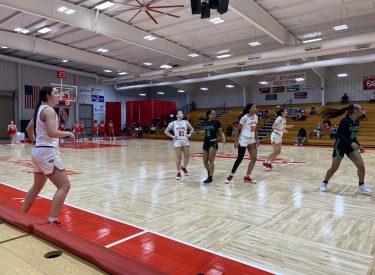 The Seward Lady Saints are surging.  The "Gals in Green" won their seventh straight game 67-61 Monday night at Nellis Hall in Coffeyville.  Seward rallied from eleven down for their third straight win at Coffeyville.
Seward claimed a 16-15 lead after one quarter.  The Lady Ravens led by as many as nine at 31-22 in the second quarter.  It was 33-28 Coffeyville at halftime.  Seward quickly cut into the Coffeyville lead as it was 33-31 Lady Ravens early in the second half.  Coffeyville extended their lead to 11 at 46-35.  Seward cut the lead to 51-48 and trailed 52-50 after three.  Coffeyville led 55-50 before Seward rallied to tie the game at 57-57.  Halima Salat's eighth three pointer of the game gave Seward County a 60-57 lead.  Coffeyville cut the lead to 60-59.  D'Arrah Allen nailed a right win three for the 63-59 lead.  Coffeyville cut it to 63-61 with 37.5 seconds left.  Sierra Lynch hit clutch free throws down the stretch.
Seward shot 36 percent and made 43 percent of their three's at 12-28.  Coffeyville had a rough shooting night making 1-19 from 3 and 12-26 from the foul line.  Halima Salat made 8-12 three pointers and scored a season high 24.  Sierra Lynch had 11 points and six rebounds with six assists.  Lynch made 7-10 free throws.
Seward wins their seventh straight and at 17-6 overall and 13-4 in the Jayhawk.  Coffeyville is 15-6 overall and 9-6 in the Jayhawk.  Seward plays at Independence Wednesday night at 5 with Saints Shoot-around at 4:45 on 107.5 and the KSCB and The Legend App.