Lady Saints Power Past Lady Conqs
Brock Kappelmann - February 12, 2019 6:00 am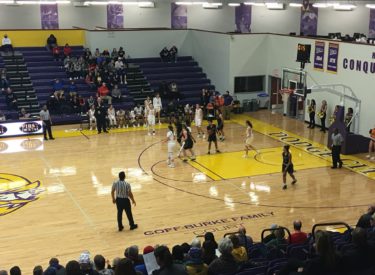 DODGE CITY, Kan. – The No. 6 Seward County women's basketball team picked up their 18th straight win on Monday, defeating the Dodge City Conquistadors 68-55 in Dodge City.
The Conqs came out firing to start the game, taking an 11-5 lead with a corner three just a few minutes into the game. The Lady Saints got back into the game with three straight offensive rebounds that resulted in put backs to give Seward a 16-15 lead with just under three minutes to play in the quarter. A foul at the end of the quarter allowed the Conqs to tie the game at 18.
Seward took a three-point lead at the beginning of the quarter but prevented the Lady Saints from opening up the game, coming back to take a one-point lead. A three-pointer by Kalen Green just before the end of the half gave Seward a 33-31 lead at halftime.
The Lady Saints came out of the half connecting on all cylinders, quickly taking a double-digit lead. Karolina Szydlowska connected on a three to put Seward up 15 points. Aquila Mucubaquire beat the buzzer to end the quarter and extend the Seward lead to 58-42.
The Seward lead reached twenty points in the fourth quarter. The Conqs cut into the lead, but the Lady Saints still came away with the win to pick up their 26th straight against Dodge City, 68-55.
Seward shot 45 percent (27-for-60) from the floor and 33.3 percent (7-for-21) from deep. The Conqs shot 40.8 percent (20-for-49) from the floor and 23.1 percent (3-for-13) from deep.
Aquila Mucubaquire led all scorers with 17 points, while Lexi Hernandez (13 pts), Silvia Veloso (11 pts) and Carla Covane (10 pts) each reached double-figures.
Seward returns to the Greenhouse on Wednesday (Feb. 13) when they host Colby for a 6:00 p.m. tip. Saints Shoot-arond at 5:45 on 107.5 and kscbnews.net. Free tickets are available at Bank of Beaver City and the North Pizza in Liberal thanks to our sponsor, Bank of Beaver City.