Lady Saint Guard Signs with Former Seward Coach
KSCB News - November 19, 2013 7:28 am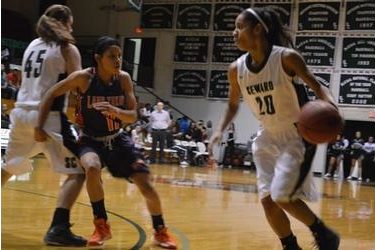 Seward guard Fabiana Monte is staying true to Seward County. After the conclusion of her sophomore season, the Deodema, Brazil native will join former Seward coach and Liberal High graduate Dave Wilburs at Arkansas Tech. Monte averages 12 points per game for the 5-0 #19 Lady Saints and scored 17 and 16 this weekend in wins over South Plains and Fort Carson. Head coach Toby Wynn says those marked her best back-to-back games as a Lady Saint. Last year Monte scored 10 a game and was named an NJCAA all star.
She signs at division 2 power Arkansas Tech where Wilburs is in his sixth year and is 131-25. Wilburs assisted Jim Littell at Seward when the Lady Saints began to gain traction as a program.
From 1993-98 Littell and Wilburs went 143-21 with four Jayhawk West titles. Wilburs was also head volleyball coach at Seward and led the 1996 team to a 54-6 record. He was a quarterback for coach Alan Haskell's Redskins during the mid 80's. But he and his LHS classmates are best known for the 1986 state championship. He was a starter on a team which included Ricky Johnson who went on and played at Maryland and played in the NFL for the Rams; Gary Johnson who was one of the leading scorers in division 2 history at Cameron; Gary Husky who played at Nevada; and Tim Lee who played football at Stanford.