Lady Saint Can Colby
KSCB News - January 9, 2012 6:33 am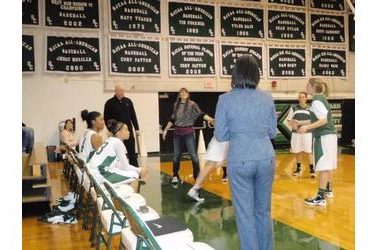 The Lady Saints didn't play down to their competition on Saturday night in the Green House. On a night when former coach Jim Littell, two time all American Kim Ortega, and the 2002 championship team represent the program along with baseball coach and athletic director Galen McSpadden and for baseball player Cory Patton in the school's first hall of fame class, the Lady Saints played with intensity which would have made them all proud.
The Lady Saints forced 30 Colby turnovers using their press to win 96-49. The Lady Saints (13-2, 2-0) shot 44 percent from three point range in winning their 11th straight against Colby (4-12, 0-2).
Satanta's Kelsey Blair scored a career high 18 while Anete Kirsteine added 18 points and six rebounds. Mattie Yanke was 4-6 from three point range and scored 12 while Ricquia Jones added 12 points and five assists. Charmaine Burns scored 11 points.
The Lady Saints led 55-19 at the half in route to the win. Seward travels to Pratt Wednesday night for a 6 p.m. game on B107.5 and kscbnews.net.
Saturday's Scores Sat. Jan. 7
D2#1 Johnson County def Kansas City KS 64-29*
Allen def Fort Scott 58-42*
Cowley def Neosho County 79-44*
Barton def Dodge City 71-64*
Labette def Coffeyville 68-56*
#3 Hutchinson def Garden City 80-55*
D2#10 Highland def #11 Independence 62-58*
Cloud County def Pratt 91-68*
#10 Seward County def Colby 96-49*