Knoll Plays in Elite Game this Weekend
KSCB News - July 7, 2011 3:51 pm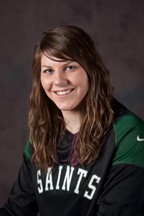 Seward County Lady Saint sophomore Ashlynn Knoll
has been selected as one of the top 40 players in the
country for next season and therefore has been invited to participate
in the annual NJCAA All-Star Event in Pensacola, Florida in July. Knoll will be on a team coached by Monroe assistant Samera Marsh and will
play in a pair of games and will go through three or four workouts in
front of four year coaches. Knoll will have her first look at
their team for the weekend on Friday where the players will have two
separate practice sessions before practicing again on Saturday morning
and then playing Saturday afternoon. Each team will again have a
practice option on Sunday morning before the final games are played
early Sunday afternoon. Seward's Kendra Spresser was also selected to the team but due to an injury, will not play next season and has left Seward County. Spresser, who participated in the event last
summer, averaged 9 points and 4 rebounds per game as a freshman in
2009-2010 before missing last season due to an injury. Knoll will
attend the event after an All-Conference freshman season in 2010-2011
where she averaged a team high 12 points and 7 rebounds per game.
Knoll will be a guest on Talkradio 1270's Sporsguys show Friday between 7:37 and 9 a.m.
The games are Saturday at 6 p.m. and Sunday at noon on www.psblive.com.