Kids College Looking For Instructors
KSCB News - May 8, 2013 8:12 am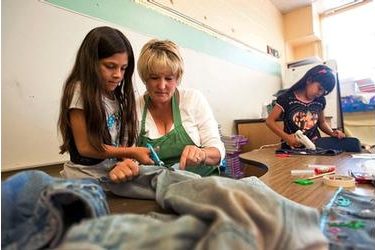 Do you love working with children? Join Seward County Community College/Area Technical School this summer as an instructor for Kids College.
Kids College is accepting proposals from potential instructors for summer 2013. Do you have a talent that you can share with children who are first through sixth grade? You don't need to be a certified teacher, but you should love what you do and have a gift for sharing your skills with others. Consider teaching courses in technology, art, culture, business, music, history, science, sports and more. You are limited only by your imagination. The success of Kids College has always depended on the imagination and enthusiasm of the teachers. It is up to you to develop class ideas that you think will be both educational and enjoyable for your students.
Kids College consists of two sessions, which are July 15-18 and July 22-25. Each session is Monday through Thursday with classes from 8 a.m. to 10 a.m. and 10:15 a.m. to 12:15 p.m. You can commit to one or two classes for one or two weekly sessions. This is a paid position; however, we cannot provide compensation for travel, lodging, or meals. Payment varies according to the number of students in a class.
If you are interested in teaching at Kids College, contact the SCCC/ATS Office of Business & Industry, 620-417-1171 or [email protected].