Kansas Supreme Court Silent After State Of The State Address
KSCB News - January 16, 2014 7:57 am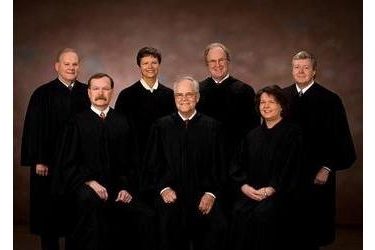 Kansas Supreme Court justices are keeping silent in the face of Gov. Sam Brownback's remarks pointedly suggesting that only the Legislature has the power to determine how much the state spends on public schools.
Brownback's remarks during the annual State of the State address Wednesday evening came with a school funding lawsuit pending before the court.
Six of the seven justices attended the speech in the House chamber. They remained seated and were silent during his remarks about school funding. They did not respond to a question afterward.
Legislators stood and enthusiastically applauded the remarks.
The conservative Republican governor said too many decisions have been made by what he called "unaccountable, opaque institutions."
He said the legislative process is "open for all to see."