Joplin Official Lowers Tornado Death Toll To 139
KSCB News - May 29, 2011 11:05 am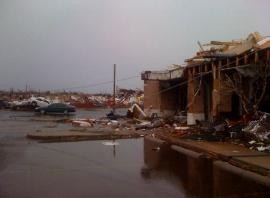 City officials in Joplin, Mo., have lowered the number of people killed by last weekend's massive tornado to 139.
Without elaboration, city manager Mark Rohr told The Associated Press late Saturday the number was down from the 142 figure he gave to reporters earlier in the day.
The state of Missouri currently places the death toll at 126, saying they have no reason to raise that number. The state says there are 142 sets of human remains at the morgue handling those killed by the storm, and some could be from the same victim.
There are also 100 people still considered missing after last Sunday's storm, which swept away homes and businesses across the city's south side. Many of those listed as missing could be among the dead.