Jones Leads OPSU to First Victory
KSCB News - January 13, 2014 6:38 am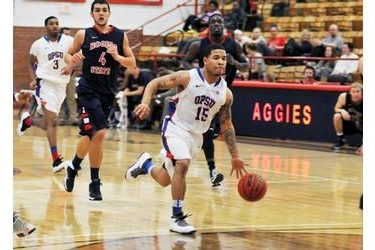 Jones Leads Aggies Past Hillcats
By Justine Gaskamp on 01/12/2014
Goodwell, Okla.-A spirited 40-minute effort led by Z. Jones with 25 points,
seven rebounds and six assists gave the Aggie men their first win of the
season over Rogers State University.
In their most complete game of the season the Aggies took the lead by
halftime and never relinquished it in their 89-78 victory on Saturday
afternoon. The Hillcats led by a narrow margin through the three-minute mark
of the first half, but consecutive threes from Jake Regier and Jones put the
Aggies up by three and the momentum shifted to the home team. At halftime
the score was 41-39 in favor of the Aggies.
Aggie fans were ready for more in the second half as OPSU took a 17-point
lead with 6:38 left on the clock. The Hillcats fought to within six points
in the final minutes but the Aggies prevailed and earned their first
conference win of the year.
Jones went 5-6 from beyond the arc and was only one of a handful of great
performers for the Aggies on Saturday afternoon. Bill Lee and Tavien
Rosemond each had double-doubles; Lee scored 19 points and had 11 rebounds
and Rosemond finished with 11 points and 10 boards. Jeremy Newton broke
double digits as well with 11 points, and Krys Randolph contributed nine
points and six assists for the game. The Aggies shot 49 percent from the
field and move to 1-12 overall and 1-4 in the Heartland Conference.
The men play one more home game on Sunday afternoon against Arlington
Baptist University before taking to the road. The Aggies play Oklahoma
Christian on Thursday, Jan. 16 and Dallas Baptist on Saturday, Jan. 18.