Update: Driver has died in Texas County Accident
Joe Denoyer - November 24, 2021 1:37 am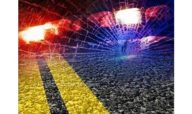 Update: The driver of the Lincoln Jacky Fry has died.
An accident occurred Tuesday afternoon at approximately 2:49pm on US Highway 54, four miles west of Goodwell, OK Texas County.
A 2022 Peterbilt semi-truck driven by Thomas Jay Koehn,  29, of
Galva, Kansas, topped a hill and saw a
2005 Lincoln SGL 4 door driven by Jacky Lee Fry, 89, of Texhoma, Oklahoma who was eastbound on US-54 at a slow rate of speed, but not in time to avoid striking him.
After impact, both vehicles departed the roadway to the right and came to rest south of the roadway.
Fry was transported by Goodwell EMS to Guymon and then flown by Apollo
Medflight to University Medical Center in Lubbock, Texas.  He was admitted for head injuries, and is listed in stable condition. Fry passed away on Friday. Koehn was not injured.