Hutch Holds Off Seward
Brock Kappelmann - February 2, 2020 10:12 am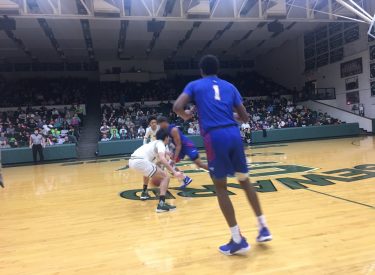 In a see saw affair, the Hutchinson Blue Dragons got the stop they needed in a 68-67 win over the Seward County Saints.  The game occurred Saturday night in front of a big homecoming crowd.  Seward never got a shot off to try to win it in the final seconds of the game.
Hutchinson took a 15-9 lead early and led 21-16 before the Saints rallied to lead 25-21.  The Saints led 30-23 but trailed 36-35 at halftime.  Seward was shot out of a cannon to begin the second half.  The Saints bolted to a 48-38 lead before the Blue Dragons responded with runs of 18-4 and 23-7.  Hutch built a lead of 63-55 with 5:18 to play.  Seward clawed back to lead 67-65 with 2:05 to play.  Seward trailed 68-67 with 1:16 to play after Hutchinson's Josh Baker buried a 3 from the right corner.  Seward never scored again despite having the ball in the closing seconds down one.
Hutch shot many lay ups and shot 47 percent against Seward's highly touted defense.  Hutch out rebounded SCCC 39-30.  The Dragons led points in the paint 36-18.  Kyle Cardaci had 16 in the loss.  Seward shot 39 percent and were 11-31 from three.
Seward is entrenched in the lower division of the Jayhawk West and 13-10 overall and 6-8 in the Jayhawk West.  Hutch is 17-6 and 8-6 in the KJCCC West.  Seward plays at Garden City Wednesday night at 8 on 107.5 and kscbnews.net.