Holcomb Scores 28 in the Third in Win
KSCB News - December 1, 2012 7:48 am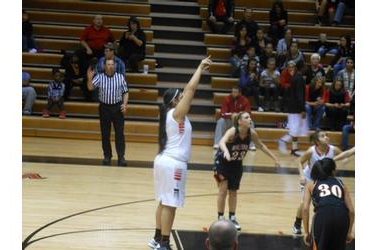 The Holcomb girls scored 28 third quarter points while blowing open the season opener in a 73-52 win over Liberal in the Big House Friday night. Holcomb hit six straight 3's during a span in which they outscored Liberal 28-10.
Liberal, who was 3-18 last year, led 5-0- and 7-4 early but Holcomb led 14-11 at the end on the first quarter and led 34-24 at halftime. The Lady Longhorns led 62-35 at the end on three. LHS actually outscored Holcomb 17-11 in the fourth quarter.
Marisol Regalado was dominant inside for Liberal with 21 while Jai Chapman added 18 and Holcomb's Kyshia Prieto scred 20.
The Lady Redskins showed a lot of improvement against a team which returned their entire team from last year's 17-7 3A state tournament team. Last year Holcomb beat LHS 56-20 without three Holcomb starters.
LHS hosts Guymon Tuesday night at 6 on Talkradio 1270 and kscbnews.net.