Hinkle and Thomas Sign
Brock Kappelmann - April 28, 2017 7:16 am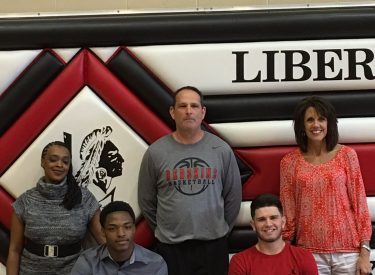 Two Liberal High School basketball players signed in the Big House Thursday afternoon.  Liberal's Cade Hinkle signed at Ottawa University in Surprise, Arizona and Kylan Thomas signed at Barton in Great Bend.
Hinkle was the WAC player of the year and netted 139 three pointers which is a school record.  He averaged 13 points and four assists per game this season leading Liberal to a WAC title and an 18-3 season.  He scored 11 a game as a junior, 10 a game as a sophomore and four a game as a freshman.
Thomas signs at Barton after drawing interest from many of the Jayhawk Conference schools.  The athletic senior scored 10 a game this season and averaged six rebounds.  He had the same averages as a junior, averaged 10 points and four rebounds as a sophomore, and four points as a freshman.
The two helped the Redskins go 48-17 the past three seasons.
Here is the audio from the signing ceremony.  The top is coach Scott Hinkle and the bottom is Cade Hinkle and Kylan Thomas.