Hays Spoils Liberal's Homecoming
Brock Kappelmann - September 16, 2017 7:32 am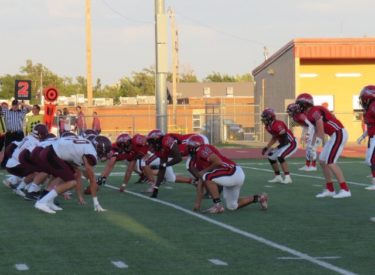 Hays rained on Liberal's parade.  The Indians shut out Liberal 20-0 Friday night in front of a big homecoming crowd at the Gary Cornelsen Sports Complex.  LHS was held scoreless and under 200 yards of offense while amassing too many penalties to withstand.  LHS had one player ejected and coach Jason Dunlap sent another player to the locker room.
LHS went three and out on their first drive.  Hays first drive resulted in a 36 yard touchdown run by Keaton Markley at the 7:02 mark.  Liberal then fumbled and Logan Schulte recovered the fumble at the 2:12 and at the LHS 49.  Liberal thwarted that drive with an interception by Tyrique Chandler.  Liberal's Jett Brown recovered another Hays fumble.  The score was 7-0 at the half as Brian Martinez and named homecoming king and Ruth Nunez was named queen.
Liberal held Hays on the Indians' first drive.  Elijah McCarter returned a kick for an apparent touchdown but multiple flags were thrown calling the potential game tying play back.  Hays quarterback Hunter Brown's seven yard touchdown run at the 52 second mark of the third quarter made it 13-0 and Hays went for two and did not get it. Brown added an interception of a Dunlap deep ball.  Brown's seven yard run at the 4:08 mark made it 20-0 after the point after.  Hayden Brown's interception was Liberal's third turnover.
Hays wins in Liberal for a fifth consecutive time and has defeated Liberal in eight of the last nine years.  Hays is 2-1 and 2-0 in the WAC and Liberal is 2-1 and 0-1 in the WAC.  Liberal plays at 0-3 Wichita North Friday night at 7 with Redskin Pre-game at 6 on 1270 and kscbnews.net.