Half Court Shot Sinks Seward
KSCB News - March 7, 2014 11:49 pm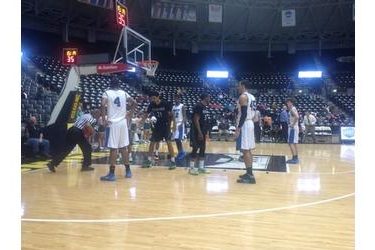 Niem Stevenson made a free throw to tie the game with 3.2 seconds remaining. That was no small feat for Seward who trailed the Pratt Beavers by 12 late in the game. But what happened next won't soon be forgotten by anyone in Koch Arena Friday night. Pratt point guard Javis Flynn launched a half court shot which went right through the hoop as time expired. Pratt celebrated not just a win but the kind of moment that a generation of KJCCC fans will not forget. Pratt won 71-68 on that last second half court shot.
The shot masked many of Seward's maladies especially on the glass. Pratt bullied the Saints on the boards 45-25. The Beavers gathered in 18 offensive rebounds.
Pratt led 26-21 at the half as both teams struggled to find the mark. But Pratt made 8-12 second half three pointers while the Saints shot 61 percent in the second half.
Niem Stevenson scored 24 while Malcolm Hill-Bey scored 14, Evan Allen added 13, and Quentin Purtue had 10. Seward finishes 23-10. Pratt plays Hutchinson Saturday night at 7 for the Region 6 title.