Guymon Hopes Optimism Spreads
KSCB News - August 12, 2011 4:44 pm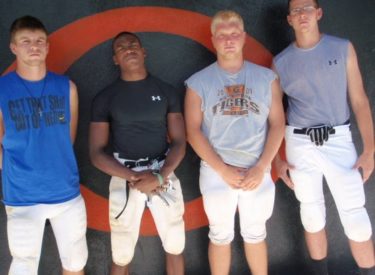 The Guymon football players spent most of July without a head football coach. Guymon's coaching staff helped hold things together while a core of about 12 Tigers worked out regularly. Joe Litsch left Guymon after two years and a 3-17 record for an assistant coaching job at Midwest City. Forty-year old Bryan Ballard jumped at the chance to be the head coach for the first time in his career. Ballard is a former offensive coordinator in Wichita Falls, Texas at Hirschi High School. Ballard runs a spread offense which will be a stark contrast to the triple option Litsch utilized the past two years. Defensively, the Tigers will stick with their 3-4 allignment.
The timing may be right to try something new at GHS, considering the Tigers return just five starters of offense and three on defense. Key Tigers include senior wideout McCully Kokaly, senior quarterback and linebacker Dakota Harris, senior lineman 6'7" Ty Morrison, junior lineman Author Rico, senior running back and defensive lineman Alan Williams, and senior lineman Garret Marler who helped Guymon win a state golf championship last spring.
Guymon plays a tough schedule again with arguably the toughest district in 4A. Guymon moves to 5A the next two seasons.
Guymon interviews with coach Ballard and some of the Guymon players air Monday between 7:37 and 9 on Talkradio 1270 and kscbnews.net.
Sept. 2- Dalhart
Sept. 9- at Liberal
Sept. 16- Hugoton
Sept. 23- at Woodward
Sept. 30- Elk City
Oct. 7- at Elgin
Oct. 14- Clinton
Oct. 20- Cache
Oct. 28- at Piedmont
Nov. 4- at Bishop McGuiness
2011 Schedule