Go Biggs Red
KSCB News - April 27, 2012 9:20 am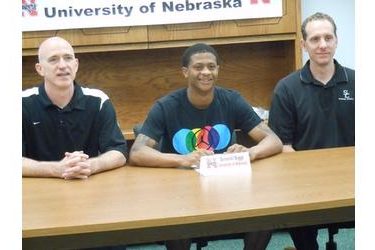 Deverell Biggs says he grew up a KU fan. Not unlike many youngsters with hoops dreams in the midwest, Biggs grew up liking the Jayhawks. But things change and when his in state university came calling, the Region 6 Player of the Year accepted signing with the Nebraska Cornhuskers Thursday in the All American Room. The Omaha Central High School standout picked Nebraska over Oklahoma State.
The Western Texas transfer averaged 14.6 points and over 3 steals and 3 assists per game for the Saints. Biggs finished the season with over 100 steals and 100 assists joining Carlo Walton as one of just two players in school history to accomplish that feat. He earned Jayhawk West Most Valuable Player, Region VI Most Valuable Player, and Region VI Tournament Most Valuable Player before being named a 1st Team NJCAA All-American at seasons end.
Biggs helped lead the Saints to a 31-7 season and a third place finish in the NJCAA Tournament last month.