Geesing Makes First Team All Conference
KSCB News - November 9, 2011 3:22 pm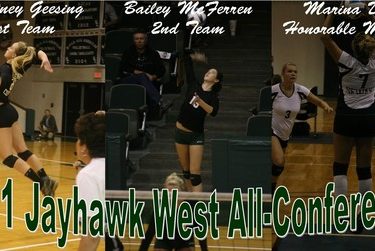 After a 25 win season and a memorable run at the NJCAA
Region VI Tournament, three Seward County Lady Saints volleyball players
have been named Jayhawk West All-Conference as well as All-Region VI.
Sophomore outside hitter Courtney Geesing leads the pack in a season as
a 1st Team selection, in which she averaged 4.20 kills per game during
conference play and 3.52 kills per game overall on the season. Geesing
had 10 or more kills in 13 of Seward's 14 Jayhawk West Conference
matches this season and had 20 or more kills three times. She finishes
the 2011 season ranked 19th in the country in kills per game. Freshman
middle hitter Bailey McFerren was the top pick on the 2nd Team,
averaging 2.29 kills and 1.43 blocks per game in conference action.
McFerren finished the season with 1.28 blocks per game which ranked her
6th in the country while also contributing 1.99 kills per game.
McFerren seemed to rise to the occasion against the best the Jayhawk
West had to offer as her two 10 block matches of the season came against
conference champion Barton and 2nd place Colby. Sophomore setter
Marina Dias earned an Honorable Mention nod after running the Lady
Saints offense to perfection after the team switched to a 5-1 offense
with her in the middle of it. She recorded over 1,000 assists on the
season and was third on the team with 356 digs. She finished her only
year at Seward County with 16 double-doubles to lead the team and had
double-doubles in 10 of the Lady Saints 11 final matches of the season.
Joining Geesing on the 1st team was Conference Freshman
and Player of the Year Paula da Silva and Juliana de Barros from Barton,
Elzbieta Klein from Colby, Shayne Haley from Hutchinson, and Emily
Scheck from Dodge City. The McFerren led 2nd team also included Jessica
Piper from Colby, Bailey Rush from Pratt, Cassie Wiley from Hutchinson,
Sherri Darden from Dodge City, and Maria Bujanda from Cloud County. The
Honorable Mention list included Dias, Paula Gonzalez from Garden City,
Taylor Arnold from Barton, Ana Calito from Colby, and Tori Provincio
from Pratt.