Garden City Sinks Liberal in Second Half at Cornelsen
KSCB News - May 8, 2013 7:27 am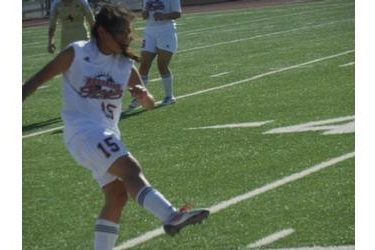 In Western Athletic Conference soccer, you are well served to take advantage of the wind. Liberal's biggest mistake was probably the fact that they didn't do that in a 2-1 loss to Garden City at Redskin Field Tuesday evening. With a strong south wind at their backs on a warm evening, LHS didn't score in the first half as the two girls soccer teams spent halftime trying to figure out a way to generate some offense.
The Buffaloes used the wind in the second half. GCHS scored on a penalty kick at the 37:28 mark of the second half and scored again at the 28:29 when Haley Brenneman found the back of the north net. Liberal's Crystal Vela scored on a PK at the 20:56 mark to make it 2-1.
Liberal has lost three straight and sits 5-9 overall and 2-5 in the WAC while Garden is 9-6-1 overall and 5-2-1 in the WAC.
LHS hosts Dodge City for Senior Night Thursday at 5:30 at Redskin Field.