Four Suffer Life Threating Injuries: Father May be Suspect.
KSCB News - October 19, 2010 12:00 am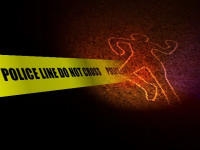 On October 18, 2010, at about 6:00 p.m., officers of the Liberal Police Department responded to a residence in the 300 block of McCray Boulevard regarding a report of children being seriously injured.
Responding officers were confronted in the front yard by a 30 year old man. The man had apparent self inflicted life threatening wounds. He was subdued by the officers and was taken to Southwest Medical Center by Seward County Emergency Medical Services. He was later flown to Wichita for further medical care.
Three children, ages 5,6 and 7, were located in the residence. Each of the children had apparent injuries. They were transported to Southwest Medical Center in serious condition. They were later upgraded to stable condition.
The man subdued by the officers is suspected of causing the injuries to the children.
The Kansas Bureau of Investigation is assisting the Liberal Police Department with the investigation. No arrests have been made at this time.