Four Bee Jays Make Jayhawk's First Team
Brock Kappelmann - August 23, 2016 2:06 pm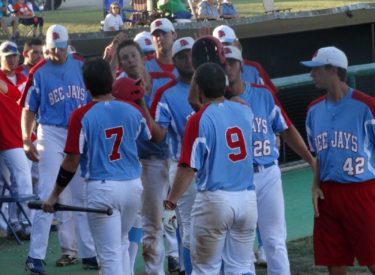 Four Liberal Bee Jays make the first team all Jayhawk League team.  Catcher Brady Cox, utility player Kyle Knauth, starting pitcher Jake Harrison, and relief pitcher Lee Busto.  Harrison was named the league's top pitcher.  In addition, two Bee Jays were second team all league as relief pitcher J.B Olson and third baseman Cale O'Donnell received that distinction.
Cox, from Fort Worth, Texas and UTA hit .277 for the Bee Jays with a homer and 21 RBI's.  He had five doubles for the Bee Jays.  Kyle Knauth  from Sidell, Louisiana and Nicholls State hit .312 with five homers, 20 RBI's, 11 doubles and 28 runs.  Harrison from Huffman, Texas and UTSA was 4-0 in Jayhawk League play.  He was 4-2 overall with a 3.04 ERA with 35 k's in 50.1 innings.  Busto from Littleton, Colorado and Montana State-Billings was 1-0 with five saves and a 1.23 ERA.  He had 20 strikeouts and four walks in 21 games and 29.1 innings.
O'Donnell took a hard luck second team slot behind Hays Mike Mioduszweski.  O'Donnell from Fort Collins, Colorado and Metro State hit .280 with seven homers, 40 RBI's, 12 doubles, and four triples. He scored 30 runs.  J.B. Olson received second team honors with six saves and zero earned runs.  He had 13 strikeouts and three walks in 11.1 innings.  The Shady Shores, Texas righty plays at Oklahoma.
Liberal finished 20-21 in the Jayhawk League going 8-13 for seventh place in the first half and 12-8 for third place in the second half.
2016 All Jayhawk Summer League Teams
1ST TEAM 2ND TEAM
C BRADY COX-LIBERAL C JARED MCDONALD-DODGE CITY
1B AUSTIN O'BRIEN-HAYS 1B BRIAN PARREIRA-DODGE CITY
2B IAN DAWKINS-DODGE CITY 2B JONATHAN SOBERANES-HAYSVILLE
3B MASON PIERZCHALSKI-DODGE CITY 3B TONY KJOLSING-EL DORADO
SS BEN MAUSETH-DODGE CITY SS NEIL LAMBERT-HAYSVILLE
OF CHASE CALABUIG-DODGE CITY OF ALEX AGUIER-DODGE CITY
OF TYLER SUTHERLAND-EL DORADO OF GAVIN BOURGEOIS-DERBY
OF NATE OLINGER-HAYS OF MIKE LEAL-EL DORADO
DH MIKE MIODUSZWESKI-HAYS DH CALE O'DONNELL-LIBERAL
UT KYLE KNAUTH-LIBERAL UT ANTHONY WARD-BETHANY
SP JAKE HARRISON-LIBERAL SP KEVIN TORRES-HAYSVILLE
SP MATT LOUTZENHISER-DODGE CITY SP JOHN PENDERGAST-DODGE CITY
SP TYSON CAMPBELL-EL DORADO SP NICK BURNHAM-DERBY
SP AUGIE GALLARDO-HAYS SP ALEX LOPEZ-HAYS
RP JAKE MOORE-HAYSVILLE RP J.B. OLSON-LIBERAL
RP LEE BUSTO-LIBERAL RP ROGER BAILEY-EL DORADO
RP SEAN CRUZ-WELLINGTON RP TY SCHWANER-HAYS
MVP-AUSTIN O'BRIEN-HAYS
TOP HITTER-CHASE CALABUIG-DODGE CITY
TOP PITCHER-JAKE HARRISON-LIBERAL