Fall Harvest Well Ahead Of Schedule
KSCB News - October 26, 2010 12:00 am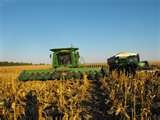 A new report says the fall harvest of
Kansas crops is running well ahead of average for late October.
The Kansas Agricultural Statistics Service released a report
Monday showing the corn harvest 93 percent complete. That's three
weeks ahead of normal.
Sorghum harvest is about two weeks ahead of normal, and soybean
cutting is about one week ahead.
The agency also says dry soil conditions are slowing the
emergence of the new winter wheat crop. About 92 percent of the
wheat has now been planted.
Wheat condition was reported as 3 percent excellent, 39 percent
good and 43 percent fair. About 15 percent was in poor to very poor
shape.