Early Morning Motel Room Fire in Guymon
KSCB News - December 30, 2014 10:31 am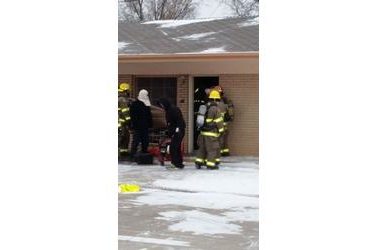 Fast recognition of an emergency by a motel guest may have saved many others at a local motel here in Guymon.
Early Tuesday morning at 8:00am, a motel guest at the American's Best Value Inn at 212 NE. Hwy 54 saw smoke coming from motel room 125 then quickly reported it to the desk clerk. Guymon Firefighters responded to the 911 call to find heavy smoke and fire conditions coming from the one room. "Firefighters were able to quickly gain entry to the room, extinguish the fire, and contain it from spreading to other rooms nearby", said Assistant Fire Chief Grant Wadley.
At the same time Firefighters were fighting the fire Guymon Police Officers began to evacuate motel guests in several room on either side of the motel room on fire for safety measures. "The fire was under control within 10 minutes and was isolated to just the one room" Wadley said. The room was being used at the time but that individual was not at the motel at the time of the fire.
Fire investigators determined the fire to have started in the heater unit of just that one room. The room and the contents of the room including the guest's personal belongings were heavily damaged by heat and smoke. Guests from other rooms were allowed back into their room shortly after fire was extinguished and found safe to return. No one was injured at this incident.
Firefighters had to battle not just the fire, but the extreme cold as well. Temperature at the time of the fire was 8 degree with wind chills in the minus degrees. Water used at fires such as this freeze within just moments making concrete surfaces large ice hazards quickly.
.