Dodge City Plays Spoiler in 4th of July Game
KSCB News - July 5, 2014 7:19 am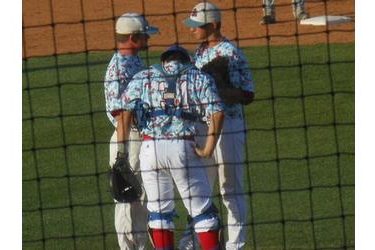 For the first time since 2011, Liberal lost their 4th of July game. After grabbing an early 4-1 lead, the Bee Jays watched the last place Dodge City A's score seven unanswered runs to beat the Bee Jays 8-4 in front of a big Brent Gould Field crowd.
The A's scored a run in the first against BJ ace JB Olson. The Bee Jays bounced back with three unearned runs in the third against starter Jagger Harjo. Alec Isaac hit a sacrifice fly, Zach Reding doubled home a run, and Brady Cox singled home a run. Liberal added a run in the fourth when Brennan Johnson doubled home a run. The A's got up off the deck in the fifth when they scored three runs on four hits and chase Olson who lasted 4.1 innings. Dodge added four runs on five hits against reliever Chad Nack in the seventh. DC out-hit the Bee Jays 16-10 as the A's had one error and Liberal had two. The A's have outscored the BJ's 19-8 the last two games at Brent Gould Field. Ryan Scott was a bright spot out of the bullpen pitching 2.2 scoreless innings. Cox, Johnson, and Tanner Vandevere had two hits a piece in the loss.
Liberal is 14-13 overall and 8-13 in the Jayhawk. The A's are 11-17 overall and 6-17 in the Jayhawk. The Bee Jays host the Hays Larks Saturday night at 7 on 1270 and kscbnews.net. Golden Plains Credit Union is the buyout sponsor.
In the Jayhawk Friday night, the Wellington Heat beat the El Dorado Broncos 7-5 in Wellington.
Wellington 18-3
Derby 13-6
Hays 12-9
Liberal 8-13
El Dorado 6-15
Dodge City 6-17