Dodge City Dominates Bee Jays
KSCB News - June 7, 2012 7:17 am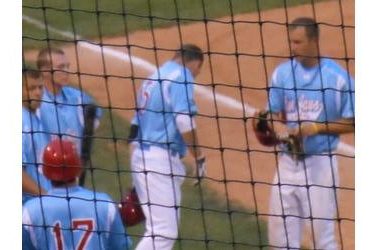 Dodge City made bigger plays at the plate and defensively in a 13-5 win at Liberal Wednesday night at Brent Gould Field. Dodge City made one error while the BJ's committed four errors and allowed five more unearned runs. Dodge City broke open a 7-5 game with six in the ninth.
Dodge only out-hit the BJ's 12-11. Liberal's last out was recorded with the bases loaded three different innings.
The A's scored two in the first and one in the fifth to lead 3-1. The BJ's tiekd the game with two in the fifth. The A's plated four in the sixth to lead 7-3 but the BJ's added two in the sixth to make it 7-5. But the A's poured in six ninth inning runs to end any suspense.
Coffeyville's John Branum led the BJ's offensively going 3-4. Seward's Tanner Rainey and Oklahoma State's Ryan Schilhab added two hits a piece.
OCU's Dalton Bernardi started the game and pitched four and 1/3 innings allowing two earned runs. Frank Phillips lefty Brad Wieck pitched one and 2/3 scoreless before Wichita State's Kyle Vail tossed a scoreless inning.
Liberal is 3-2 and 1-2 in the Jayhawk. They have committed 11 errors the past three games. Dodge City snaps a three game losing slide and is 2-3 overall and 1-2 in the Jayhawk.
Liberal plays at Haysville against the Heat Friday, Saturday, and Sunday night at 7 p.m. on Talkradio 1270 and kscbnews.net.