"Doc" Continues To Honor Veterans
Joe Denoyer - July 26, 2017 4:17 pm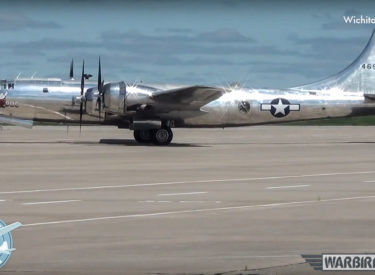 A decades-old bomber that was built and restored in Wichita is now being used to honor those who worked on B-29s during World War II.
The Boeing B-29 Superfortress named Doc has a custom exhaust port on the rear of the plane can spread cremated remains.
It took a trip Tuesday in Wisconsin with the cremated remains of one of the men who helped with its 16-year volunteer restoration.
The plane was dubbed Doc after being assigned to a squadron of eight bombers named after Snow White and the Seven Dwarfs from 1945 to 1956.
The plane was finished too late to fly bombing missions during WWII, but it served as a radar trainer during the Korean War.