Brownback's Chief Of Staff Steps Down
KSCB News - April 6, 2012 4:28 pm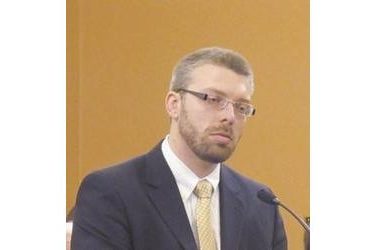 Topeka – Kansas Governor Sam Brownback announced today that Chief of Staff David Kensinger is stepping down to return to work in the private sector. Brownback has promoted Policy Director Landon Fulmer to Chief of Staff and Operations Manager Jon Hummell to Policy Director.
"I am deeply appreciative of the work and energy David has given me, our team and the State of Kansas. His leadership kept our team on track and focused on our Road Map for Kansas goals that we laid out during the campaign. We will miss him but are pleased he will continue to work with us as we work to make our great state even better," Gov. Brownback said.
A Topeka native, Kensinger first worked for Gov. Brownback during his 1994 campaign for the U.S. House of Representatives. He thanked the Governor for the opportunity to serve his home state.
"For the fourth time, I am transitioning to an unofficial role on behalf of Sam Brownback and the people of Kansas. This has been my most rewarding opportunity in public service. Compared to January of last year, 22,000 more Kansans are working in private sector jobs. A state budget deficit has become a $400 million budget ending balance. Those are real results," Kensinger said. "I am enormously grateful to Governor Brownback and proud of the team he has assembled, but also excited for two new opportunities to build on our shared vision.
Kensinger will join U.S. Rep. Mike Pence's campaign for Governor of Indiana. Kensinger said Rep. Pence is a principled leader committed to limited government, strong families and job creation through economic growth. He is unopposed in the May 8 th Republican Primary.
Kensinger also will serve as Chairman of Gov. Brownback's policy organization, Road Map Solutions.
"In this role, I will be free to advocate in the public square for policies which will fulfill the goals described in Governor Brownback's Road Map for Kansas: private sector job growth, increased personal income, improved 4 th grade reading scores, expanded opportunities for college age Kansans and a reduction in childhood poverty, " Kensinger said.
Prior to serving as the Governor's Policy Director, Landon Fulmer worked for Brownback during his time in the U.S. Senate in various policy advisory roles.
In addition to overseeing daily logistical operations within the Governor's office, Jon Hummell also worked on the Governor's education reform and energy policies. Hummell previously served in Brownback's U. S. Senate office as regional director.
###