Books For Bailey Aids Ethiopia
KSCB News - November 15, 2011 1:32 pm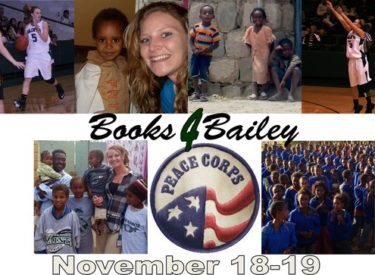 This weekend in the Greenhouse during the Billy's/Days
Inn Classic, the Seward County Lady Saints will be hosting the "Books 4
Bailey" paperback book drive. Fans are asked to bring paperback books,
from picture books up to mid-level chapter books, to the games with them
and put them in our collection boxes at the entrances. The books will
then be sent to Ethiopia to former Lady Saints basketball player Bailey
Crandall, who is currently working and teaching there with the Peace
Corps, where she will then distribute them throughout her community and
stock their depleted libraries with them.
Crandall played for the Lady Saints from 2007-2009
before moving on and earning her Bachelor's Degree from Newman
University. She is now working with the Peace Corps and working as an
English Teacher in Ethiopia and will remain there until August of 2013.
She says that the children in her local community have nearly no fiction
books to read and that the only thing that they have in their local
libraries are text books. English is the second or third language for
most of the children there, but as soon as they reach the 9th grade, all
of their subjects are taught in English, which stresses the importance
to help these youngsters advance their English proficiency before they
reach that age.
Even if every person that comes to the Greenhouse this
weekend for the games can donate just one book, it will make a
significant difference in the lives of many children that are less
fortunate. Please help support former Lady Saint Bailey Crandall this
weekend by bringing paperback books to the Billy's/Days Inn Classic and
help show that Seward County Community College/Area Technical School
doesn't just care about our community, but the betterment of communities
all over the world!