Bombs Away for Bee Jays in Dodge City
KSCB News - July 4, 2014 8:47 am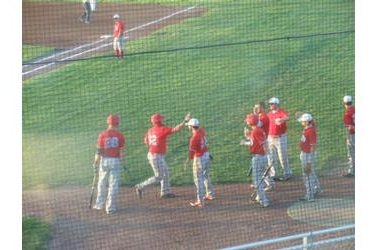 The Liberal Bee Jays blasted four home runs in a come from behind 8-4 win over the Dodge City A's in Dodge City Thursday night. Zach Hoffman homered twice and Tanner Vandevere provided a two out homer in the eighth to give the BJ's the lead. Alec Isaac added a three run shot.
The BJ's scored first loading the bases with no outs in the first inning but settling for one run when Brennan Johnson tapped an infield single to the left side. The A's scored in the bottom of the third against starter Justin Schnedler. Zach Hoffman gave the BJ's a 2-1 lead with a home run over the center field wall to lead off the fourth. The A's scored three in the bottom of the fourth including a two run homer by Tyler Alobert to lead the BJ's 4-2 after four. Liberal got a run back in the sixth when Hoffman deposited a pitch over the left field wall to make it 4-3. Liberal broke through with two outs in the eighth. Tanner Vandevere lofted a two run homer to left center to give the BJ's the 5-4 lead. Alec Isaac blasted his fifth homer of the season over the wall in left center to make it 8-4 after his three run clout. Justin Schnedler pitched five innings allowing four runs. Nathan Smythe pitched four scoreless innings for the win with four strikeouts and no walks. Hoffman was 2-5 with two homers, Isaac was 2-5 with three RBI's, Johnson was 2-4 with an RBI, and Kyle Lieser was 2-4 with a double. The BJ's out-hit the A's 12-10 and Liberal won despite three errors.
The Bee Jays have won three straight and four of their last five to be 14-12 overall and 8-12 in the Jayhawk. Dodge City is 10-17 overall and 5-17 in the Jayhawk.
The Bee Jays host the 4th of July Game Friday night at 7 against the A's. The fireworks show will follow the game at Brent Gould Field. Community Bank, Pizza Hut, and the City of Liberal are the sponsors of the event.
In the Jayhawk Thursday night, Derby blanked El Dorado 5-0 in Derby.
Wellington 17-3
Derby 13-6
Hays 12-9
Liberal 8-12
El Dorado 6-14
Dodge City 5-17