Blizzard Warnings; 4 p.m. Update
KSCB News - February 24, 2013 3:30 pm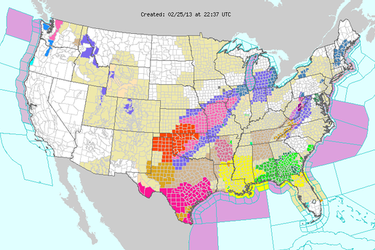 BLIZZARD CONDITIONS TO CONTINUE FOR THE NEXT SEVERAL HOURS IN
MANY AREAS…
OKZ002-003-TXZ003>005-008>010-013>015-018>020-260600-
/O.EXT.KAMA.BZ.W.0001.000000T0000Z-130226T0600Z/
TEXAS-BEAVER-HANSFORD-OCHILTREE-LIPSCOMB-HUTCHINSON-ROBERTS-
HEMPHILL-CARSON-GRAY-WHEELER-ARMSTRONG-DONLEY-COLLINGSWORTH-
INCLUDING THE CITIES OF…GUYMON…BEAVER…FORGAN…SPEARMAN…
GRUVER…PERRYTON…BOOKER…HIGGINS…FOLLETT…BORGER…MIAMI…
CANADIAN…PANHANDLE…WHITE DEER…PAMPA…SHAMROCK…WHEELER…
CLAUDE…CLARENDON…WELLINGTON
407 PM CST MON FEB 25 2013
…BLIZZARD WARNING NOW IN EFFECT UNTIL MIDNIGHT CST TONIGHT…
THE BLIZZARD WARNING IS NOW IN EFFECT UNTIL MIDNIGHT CST TONIGHT.
* EVENT AND TIMING…MODERATE SNOW WILL CONTINUE THROUGH 8 PM IN THE
EASTERN PANHANDLES…WITH STRONG WINDS LINGERING UNTIL NEAR
MIDNIGHT. ANOTHER 1 TO 3 INCHES OF SNOW WILL BE POSSIBLE THROUGH
8 PM.
* IMPACTS…SNOW AND BLOWING SNOW WILL REDUCE VISIBILITIES TO
ZERO AT TIMES…PRODUCING WHITE OUT CONDITIONS IN MANY SPOTS.
ROADS WILL BE SNOW PACKED AND ICY. SNOW DRIFTS 5 FEET OR
HIGHER IN SOME AREAS WILL MAKE DRIVING IMPOSSIBLE. POWER
OUTAGES WILL BE POSSIBLE.
PRECAUTIONARY/PREPAREDNESS ACTIONS…
A BLIZZARD WARNING MEANS SEVERE WINTER WEATHER CONDITIONS ARE
EXPECTED OR OCCURRING. FALLING AND BLOWING SNOW WITH STRONG WINDS
AND POOR VISIBILITIES ARE LIKELY. THIS WILL LEAD TO WHITEOUT
CONDITIONS…MAKING TRAVEL EXTREMELY DANGEROUS. DO NOT TRAVEL. IF
YOU MUST…HAVE A WINTER SURVIVAL KIT WITH YOU. IF YOU GET
STRANDED…STAY WITH YOUR VEHICLE.
&&