Big Innings Lift Redskins
KSCB News - May 14, 2010 12:00 am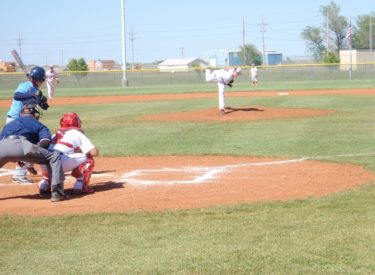 Liberal trailed Scott City 5-2 going to the bottom of the fifth in game one Thursday at the Liberal Baseball Complex. What Liberal would do the next three innings of the day would define their Senior Day sweep. The Redskins scored five in the fifth to lead 7-5 and six in the sixth to win 13-5 in game one. In game two, the Skins jumped on the Beavers for six runs in the first in route to a 9-0 win. In game one, Tyson Deaton struck out nine in five innings and pitched strongly other than the fifth inning hiccup. Brandon Granger drove home two runs in the win. Liberal had only eight hits but cashed in on Scott City's control issues on the mound and three defensive errors.
In game two, Kyle Potts took the ball and ran with it. The senior struck out seven in a two hitter. Bryan Morris drove home two runs and Granger had two RBI's. Freddy Gomez was 2-4.
Liberal played well defensively again committing only two errors on the day and turned a couple of double plays. The Beavers are 10-10 while LHS improves to 13-7 with regionals early next week in the Wichita area. The regional pairings will be announced Saturday.