Besecker Leaves LHS for Emporia State
Brock Kappelmann - July 14, 2021 1:10 pm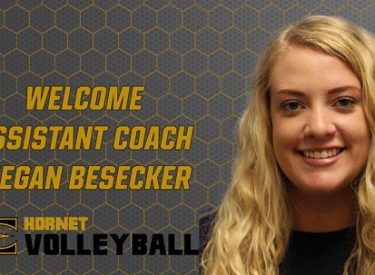 Liberal's head volleyball coach the past two seasons is leaving for Emporia State.  She was 30-39 in two seasons as head coach.  She coached Liberal to a 14-18 season in 2020 and a fourth place finish in the WAC.  LHS was 16-21 in 2019 with a sub state win and a third place finish in the WAC.  Besecker replaced Taryn Dinh who was head coach for five years.   Here is the press release from Emporia State.
July 14, 2021-Emporia State head coach Bing Xu has announced the addition of Megan Besecker as his assistant with the Hornet volleyball program.
"We are very excited to welcome Megan Besecker to Emporia and the Hornet volleyball program," said Xu. "Megan is a great coach and was very knowledgeable of training young student athletes in the success at Liberal High School the past two seasons.  She works hard and positive, has an incredibly volleyball coaching and playing experience and is a great person."
Besecker spent the last two years as the head volleyball, assistant basketball and assistant track coach at Liberal HS while also teaching psychology, algebra and career exploration.  Liberal finished fourth and third in the Western Athletic Conference during her two seasons. She also coached for the Liberal Volleyball Club program.
"I would like to thank LHS, USD 480, and the Liberal community for giving my first coaching opportunity and always supporting me over the years," said Besecker. "The hardest part of this next step is leaving the girls and our program at LHS.  We have really grown and evolved together these last couple years."
A Liberal, Kan. native, she took over the Liberal HS program after graduating from Tougaloo College in 2019.  She was a first-team All-Gulf Coast Athletic Conference performer in each of her two years with the Bulldogs. She led the GCAC with 387 total kills and 3.9 kills per set while ranking fourth in NAIA Division I with 70 total aces her senior year.
She began her collegiate career at Garden City CC. She had 335 kills in her two seasons with the Broncbusters, with 302 coming during her sophomore season.
"Megan sees where we are trying to take Emporia State volleyball and is completely bought in to continuing the program's success academically and athletically," said Xu.  "We're so happy to have Megan Besecker join our Hornet Nation and athletic family."
"I am super excited to be joining Hornet Nation and for opportunity to learn and grow under Coach Xu," said Besecker. "The staff and athletes were so welcoming and I can't wait to get started!"