Bee Jays Waste Sheve's Strikes
KSCB News - July 24, 2011 10:54 pm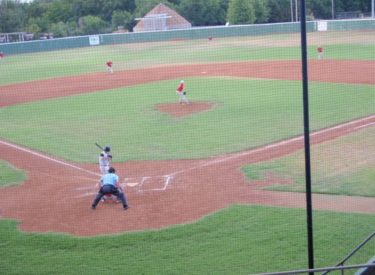 Patrick Shreve was special Sunday night. The lanky BJ lefty from Nicholls State and Mobile, Alabama threw 67 strikes and 20 balls. His performance was good enough to hold El Dorado to a pair of runs on eight hit. But it wasn't good enough to win the game as the Broncos won 2-1 over the BJ's Sunday night at McDonald Stadium in El Dorado. The game lasted one hour and 50 minutes. The BJ's mustered just one run on seven hits.
The Broncos scored one in the second on a bloop infield single and one in the third. Liberal scored one in the fifth when Micah Green singled home Greg McCall.
The BJ's had an opportunity to score in the fourth when Reyn Nagamine doubled off the wall in right but Blake Bergeron was thrown out trying to score at home. Liberal placed runners on second and third with two outs in the ninth.
Shreve falls to 4-2 with the loss. The BJ's played without Ryan Walker who injured his hip crashing into the wall Saturday night. His injury leaves him as a day-to-day decision as to whether he'll be able to play.
Liberal falls to 28-15 overall and 18-14 in the Jayhawk while El Dorado is 17-26 overall and 10-20 in the league. The teams meet Monday night at 7 p.m. on Talkradio 1270 and kscbnews.net.