Bee Jays Sweep Derby
Brock Kappelmann - July 14, 2017 6:50 am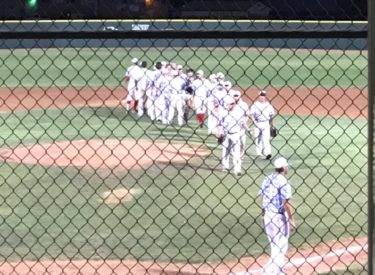 The Liberal Bee Jays have moved into second place in the Jayhawk League with a 3-2 win at Derby Thursday night. The Bee Jays sweep the series and finish 5-1 against one of the league's best teams. They finish 13-7 on the road.
Josh Sieglitz (3-0) pitched 6 and 1/3 strong innings for the win allowing two runs. Chance Carner went 2 and 2/3 scoreless with four strikeouts and no walks. It was his first save.
The game began with light rain falling falling and was played with the wind belting across from left to right. It was 100 shortly before the game started and the temperature quickly dropped to about 78.
The Twins scored first with an Anthony Dominguez homer to right center. Liberal countered in the fourth when Kyle Schmidt singled, Cale O'Donnell reached on a fielder's choice, and Colton Onstott homered to right center for his third of the season and Liberal's 13th of the series. The Twins tied it in the fifth. Marcus Shoemaker singled and advanced to second on an error in right to begin the sixth. With two outs, Trent Maloney grounded a single through the right side to give the BJ's the 3-2 lead. The game ended with the tying run on second and one out but a line drove to shortstop Zac Cook ended in a double play with Cook tagging the runner at second.
Liberal is 25-11 and in second while Derby is 24-11. Hays is still in first at 26-10. Hays comes to Liberal to begin a series Friday at 7 with the Dugout Show at 6:45 on 1270 and kscbnews.net. Sharp McQueen PA is the buyout sponsor.