Bee Jays Let Early Opportunities Slip in Loss
Brock Kappelmann - July 8, 2017 8:59 am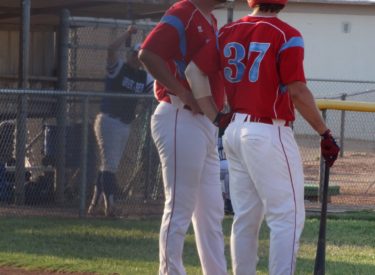 The hits were even and Great Bend had four errors to Liberal's none. But Great Bend was more advantageous than Liberal as the Bat Cats beat the Bee Jays 7-2 Friday night at Al Burns Stadium in Great Bend.
Liberal had back to back singles to lead off the second and fourth but couldn't score. The first two men reached on a walk and an error in the fifth and didn't score. Meanwhile the Bat Cats scored two in the third and three in the fourth. Two of those runs scored on wild pitches. Liberal finally scored in the sixth as Trent Maloney singled home a run. Kyle Schmidt doubled in the eighth. The next hitter reached on an error scoring a run.
Darren Cook started for the Bee Jays and went  four innings allowing five runs. Robbie You my pitched two innings allowing two runs. Thomas Garland pitched two scoreless innings.
Liberal remains in first at 22-9 just a half game in front of 21-9 Derby, a game in from of 20-9 Hays and 20-9 Dodge City. Great Bend is 15-16. The same two teams meet tonight at 7 in Great Bend with the Dugout Show at 6:45 on 1270 and kscbnews.net.