Bee Jays Blank A's
KSCB News - July 2, 2011 9:40 pm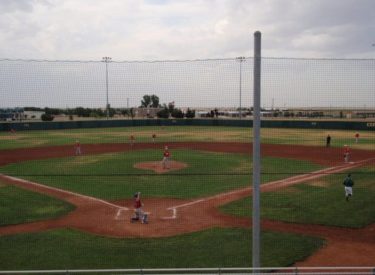 The Liberal Bee Jays shut out the Dodge City A's 7-0 Saturday night at Cavalier Field in Dodge City. Nicholls State lefty Patrick Shreve (4-1) pitched seven innings striking out seven and walking one. Hawaii's Brent Harrison pitched two scoreless innings.
Liberal won despite only four hits. The Bee Jays scored one in the second on an error. Reyn Nagamine walked and Kansas State's Ross Kivett doubled off the wall in left center. The Dodge City third baseman booted a ground ball to allow a run to score.
Liberal added two in the fourth. Reagan Pearson and and Micah Green were beaned with the bases loaded and two outs.
New Mexico's Quay Grant singled home a run in the ninth before a two RBI single by San Diego's Reyn Nagamine. Another run scored on a throwing error.
Liberal has won six straight Jayhawk League games. Liberal has won nine of their last 10 and stands 21-6 overall and 11-5 in the Jayhawk. The A's lose their fifth straight and are 11-13 overall and 5-12 in the Jayhawk.
The Bee Jays and the A's meet Sunday night at 7 p.m. at Brent Gould Field. Days Inn is the buyout sponsor.